Objectives and Methodology
The main goal of research is to develop country energy mixture model for clean environment and economy development in Latvia and implement a prototype of a novel routed smart grid system for energy distribution and management. The current research project includes objectives in three main fields: (1) energy generation and environment, (2) energy distribution and management, and (3) energy policy and economy. Every objective is independent and valuable by itself, but altogether they provide a combination where every part interacts with others and contributes to a complete energy model.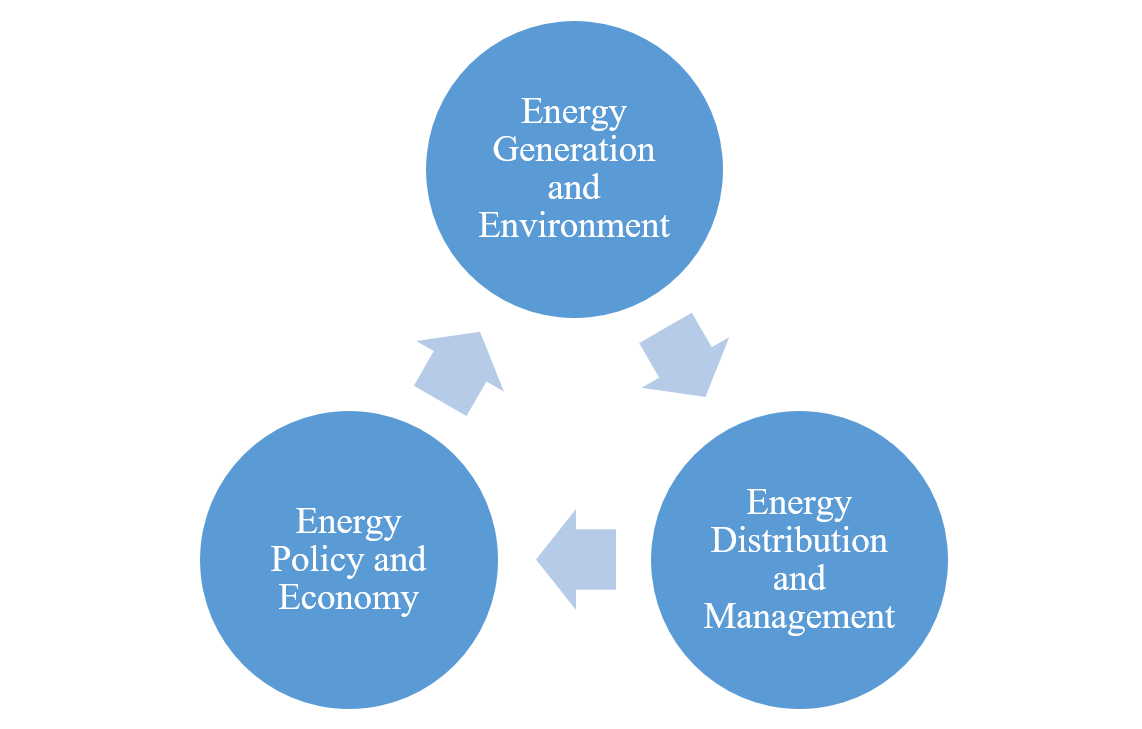 (1) Energy generation and environment objective uniqueness is that it includes the definition and implementation of the energy mixture model which describes the effective share of various energy sources including renewable energy generation from local green resources. This takes into account existing and potential power plants which can be constructed, amounts of produced energy depending on typical hourly energy consumption, and all construction, fuel and maintenance costs. This objective also describes the distributed energy generation which is a very important aspect for multiple unstable sources of energy such as renewable energy sources.
(2) Energy distribution and management objective defines a novel next generation distribution grid architecture, applying technology achievements from computer world and data flow management to energy distribution and control utilizing innovative smart devises to direct energy flows from one set of ports to another based on a set of rules. Energy is now not just naturally flowing from the source to customers based on the inherent laws of physics, it is smartly routed between renewable energy sources, homes and other interconnected grid elements. This model is targeted to provide an effective way of distributed energy sources integration into one system which is capable of smart energy routing. One more important area covered in this objective is energy storage aspects, which are significant for renewable energy sources. This energy distribution objective plays an important role in the first objective as it provides a possibility to use mixed energy sources combination and adjust it according to the energy consumption and other factors.
(3) Energy policy and economy objective defines the energy generation and consumption rules, energy routing protocols, and energy trading principles within the proposed structure. All these aspects make a unified policy which strengthens the country energy sector and makes it a powerful economic engine. This objective is tightly related to the previous one, as it requires a model of smart energy routing between consumers and various energy sources.
These three objectives have an interdisciplinary interaction between each other and in combination define a complete energy model for clean environment and economy development. These objectives cover Large-Scale Environment Systems, Information Technology, Energy and Policy disciplines. To achieve the goals this research project introduces following approaches: system dynamics modelling for country energy mixture model, agent-based modeling and simulation for routed smart grid and energy storage, and mathematical model for minimized ecology harm along with maximized economy benefits based on existing and potential power plants.
The expected results of the proposed novel research project is related to the Latvian national development priorities as well as to global energy and environmental systems. Anticipated research activities in Latvian and foreign institutes and companies will open a wide range of opportunities for new high quality international collaboration researches in the fields of energy, economy and ecology.